Back to: Lesson Pack #5
You must enroll in this course to access course content.
Lesson 21: Step Around Johnny and "ADae" Tuning
We now move into a common tuning used to play in the key of D.  It is commonly known as "high bass tuning".  The low G string on the fiddle is tuned up to A to allow for a low A drone note while playing in the key of D.  Of course, it's perfectly acceptable to play D tunes out of standard tuning and some times I will intentionally play in standard tuning if the tune has a G chord that I want to highlight.
I learned this tune from my friend Charlie Hunter from Birmingham, Alabama.  He learned it from the recording above of Sam Taylor of Oneonta, Alabama who was recorded by Jim and Joyce Cauthen.  Charlie calls this "the tune you didn't know you knew" because of it's similarity to other tunes.
This tune was recorded by the band Red Mountain White Trash, on their album titled Chickens Don't Roost Too High (1999). From the album's liner notes:
"Sam Taylor, a guitarist and mandolin player from Oneonta, Alabama, taught us this tune played by his maternal grandfather, Jim Allen.  His aunt calls the same tune the  'Jones Piece.'" source
This tune is also included in the Milliken-Koken Collection of American Fiddle Tunes, where it is attributed to Sam Taylor. It is one of the few tunes in that book sourced from a non-fiddler.
About the fiddler
Sam Taylor (1929-2017) was born in Blount County in northern Alabama, about forty miles north of Birmingham. His grandfather and uncle were both fiddlers, but Sam decided to learn to play mandolin and guitar. His teachers and influences on those instruments are unknown.
As a teenager in the 1940s, Sam gathered some local musicians and formed the Hamilton Mountain Boys band. They played together until the Korean War began in 1950, at which point many of the band members left home for military service.
Sam returned to Blount County a few years later, married, and became a supervisor in the State Highway Department. He continued to enjoy playing music at community gatherings, often joined by other local musicians, and was happy to teach tunes to those who were interested.
Additional Resources
Bio of Sam Taylor with information about his family – Fiddle Hangout
Charlie Hunter of Birmingham, Alabama.
Lee Stripling son of Charlie Stripling of the famed Stripling Brothers band from Alabama.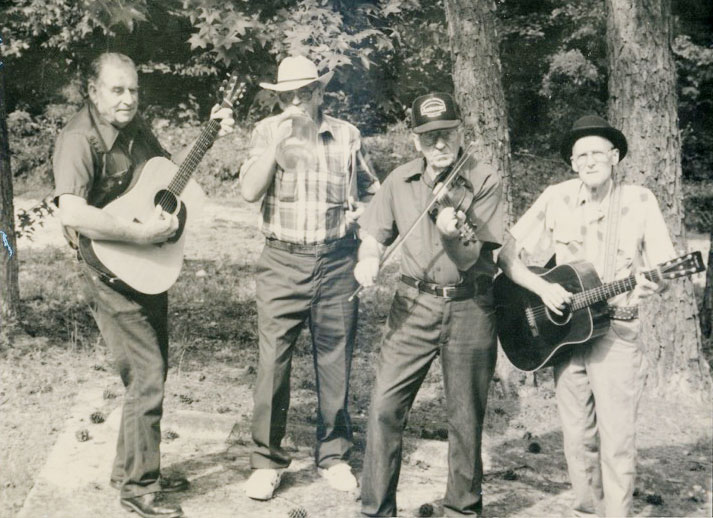 Sam Taylor on the left with a guitar, posing with musicians from the Whited family.
Step around Johnny played by Tricia Spencer, Gil Sewell, and Mike Horan
Lee Stripling son of Charlie Stripling of the famed Stripling Brothers band from Alabama.
Jim and Joyce Cauthen of Birmingham, AL